3D Snake is a simple, fun activity for early learners and others who may struggle with more complex games. It is fully switch accessible, and you move the fun snake around the green floating astroturf and eat some red apples….don't fall off the carpet! Great to practise switch press timing.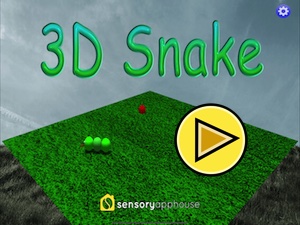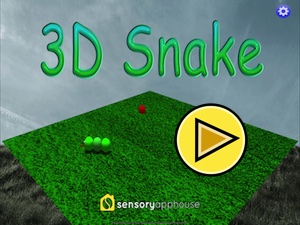 Click the app icon, which will open and launch the Sensory App in a new browser tab.
Clicking or tapping the app launch screen will launch the app and fill the screen or window.
If the app fills the window, maximise the window to full screen and the app will run as full screen.
Press ESC key or click/tap the X button to close the app.
How to Use
There is a setting to change the speed that the snake moves and a setting to change snake direction either on a switch press, or a switch release. Tapping, pressing 1 or 2, A or B, Space/Enter will move the snake. The more apples the snake eats, the longer it gets.
3D Snake contains no adverts on requires no end user login. This app does not collect any face or other data, and does not request access to camera or microphone.
How to Install & App Store Links
Sensory Apps Video Channel