Sensory Aqua is a slow relaxing bubble lamp. The bubbles seem to have a life of their own. They flow around the screen in a lava lamp style.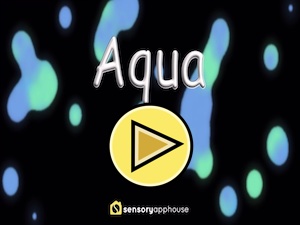 Click the app icon, which will open and launch the Sensory App in a new browser tab.
Clicking or tapping the app launch screen will load app and fill the screen or window.
If the app fills the window, maximise the window to full screen using your browser menu or settings, and the app will run as full screen.
Press ESC key, click/tap the X button to remove the app from full screen, and it will continue to run in its tab or window. Close the tab or window if you are finished.
User Guide
By pressing the silver buttons it is possible to change colors, change the number of bubble groups, change the general speed of movement and change the "diffusion". You can also select more bubble droplets. The bubble edges of Aqua are fully touch reactive, responding according to how close a bubble it to the touch.
Sensory Aqua contains no adverts, requires no subscription and collects no user information. Perfect to beam to a large screen in a Sensory room or use as a relaxing, soothing night light.
How to Install & App Store Links
Sensory Apps Video Channel