An easy to use, early learners painting and coloring app. Alphabet Paint has 4 groups of coloring sheets, with 26 activities in each. One for each letter of the English Alphabet, so great for exploring the letter sounds.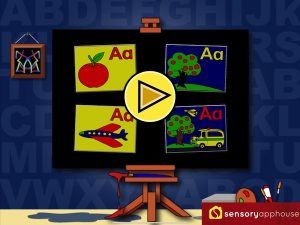 Click the app icon, which will open and launch the Sensory App in a new browser tab.
Clicking or tapping the app launch screen will load app and fill the screen or window.
If the app fills the window, maximise the window to full screen using your browser menu or settings, and the app will run as full screen.
Press ESC key, click/tap the X button to remove the app from full screen, and it will continue to run in its tab or window. Close the tab or window if you are finished.
User Guide
Sensory Alphabet Paint contains 4 groups of coloring templates, with 26 paintings to be completed. One for each letter of the English Alphabet, so great for exploring the letter sounds. The paintings could also help with early word use and starting letter sound exploration. AlphabetPaint starts in fill mode, and you can change to freehand mode by pressing the top icon.
There are two simple painting modes – freehand and tap to fill – and they can be combined to fill in your freehand paintings. You can also create a fun animation effect once the painting is completed. Pressing the Back arrow chooses the blank canvas, and each of the 4 modes of difficulty features a smaller brush.
Switch Access and Adaptive XBox Controller
AlphabetPaint is an ideal early learner digital painting app, that can also be used with an XBox Controller or Microsoft Adaptive Controller with a joystick, the DPAD, inbuilt switch or suitable external switches. The joystick moves the onscreen cursor, A button selects/deselects painting and settings. AlphabetPaint is one of a series of Sensory painting and art apps, including FirstPaint, Mandala Patterns, FunPainting and Coloco.
How to Install & App Store Links
Sensory Apps Video Channel