Visage is an easy to use app for early learners or special access situations. Touch and move around the screen slowly and watch the faces. Change the different cartoon character faces, make them wink, change the number of faces – it might be fun!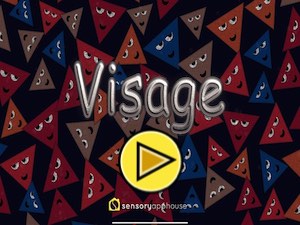 Click the app icon, which will open and launch the Sensory App in a new browser tab.
Clicking or tapping the app launch screen will load app and fill the screen or window.
Press ESC key, click/tap the X button to remove the app from full screen, and it will continue to run in its tab or window. Close the tab or window if you are finished.
Visage main screen can be controlled by an external keyboard. Characters 1,2,3,4, Space, Enter change the creature settings, and 5 removes the buttons from the screen. +/- change the background.
How to Install & App Store Links

Sensory Apps Video Channel