Mandala Patterns allows you to create beautiful symmetrical and freeform digital paint creations for your entertainment and relaxation. A mandala is a complex abstract design that is usually circular in form. Mandalas can be based on or include a variety of geometric shapes using patterns and symmetry. This easy to use app spans the age groups, and provides a wide range of digital painting effects, including animation. You can save your creations and upload/share according to your computer/tablet. Designing your own mandalas can be both inspirational and therapeutic.
Live Mandala Web App
Click below to launch the free instant live version!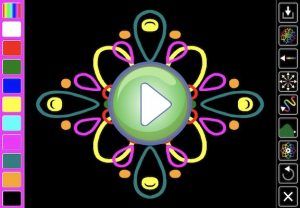 Instant Web App – Click or Tap above
Mandala Patterns (and all Sensory App House apps) do not contain advertising. Mandala is available for school site licensing.
Get Mandala

Switch Access and Adaptive XBox Controller
Mandala is digital painting app that can also be used with an XBox Controller or Microsoft Adaptive Controller with a joystick. The joystick moves the onscreen cursor, A selects/deselects painting and changes settings on the toolbars.
Read more about the Bluetooth switch access and the Microsoft Adaptive Controller here.
Contact us at [email protected] if you have any technical or licensing queries.
Sensory Mandala for Apple TV – Mandala is also available for the tvOS Apple TV. Read more