Sensory Live! brings together the popular and new Sensory Apps to be run from the cloud, on any of your computers or tablets. Each app is a full screen experience and most allow control by touch, mouse, eye gaze, keyboard, XBox, switch access or Microsoft Adaptive controller. The apps from Sensory Live! can also be installed on your device.
Advantages of Sensory Live!
Access and install most of the Sensory App House range.
Many of the Sensory Live! apps are currently free to use without login needed.
Run the apps on Chromebook, Windows, Mac, Android, iOS
Install the apps to run offline and full screen. See how….
Share screens and apps with your family, students and clients.
Sensory Apps work with access switches and adaptive controllers when appropriate.
Our fun apps are always the latest build and can be quickly updated
Always working on new creations, which will appear in Sensory Live when released.
Wide range of Sensory Apps, many are currently free (no membership needed) – see the Full List
Please experiment with the free four apps below, try them on various devices and have a go at installation! Instructions and video for use and installation are included for each app. If you are unsure email us at [email protected]
Free Sensory Live!
To try some of the Sensory Live! apps, click the icons below and the Sensory Live app page will open in a new tab. Run the app full screen or install on your device.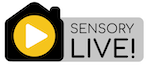 Become a Member of Sensory Live!
We have currently paused the need to become a Member of Sensory Live! and no login is required. The apps are currently free to use and share until further notice. The apps are also available on the various app stores, for free or for a low cost. We hope they help.
Custom License Question
You may have a large or exciting custom project, and require our support, customisation or special license permissions. If you have any questions at any time, the best way to contact us is [email protected]