Sensory Flames has a range of different flame and sun effects. Try the live demo below, and change the style using the silver buttons.
Live Sensory Flames Web App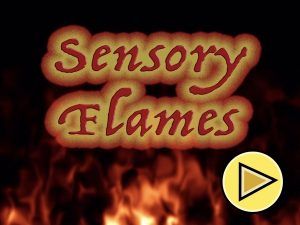 Above is a live web version of the Sensory Flames app.
Sensory Flames (and all Sensory App House apps) do not contain advertising. 
Get Sensory Flames
Preview Video
Switch Access and Adaptive XBox Controller
The Sensory Flames style effect can be chosen using touch/mouse and the silver buttons. The app can also be controlled by using an XBox controller or the Microsoft Adaptive Controller with any suitable switch inputs. Keyboard control (1, 2, 3, 4, 5, space,+,-,Enter) also allows the desired abstract effect to be chosen. The app control buttons can be hidden with a keypress 5.
Read more about the Bluetooth switch access and the Microsoft Adaptive Controller here.
Contact us at [email protected] if you have any technical or licensing queries.