SpeakAround is a new speech development tool. It can be used for helping young people with speech development by linking sounds to visual changes in the high quality visual effects. It is ideal as a cause and effect type tool, and use in a Sensory Room environment. It is also great for projection, and the visual art will respond to any sounds or music being picked up by your microphone. There is an incredible range of visually strong, soft or abstract views and backgrounds available, as you can see from the screenshots. The app requires a microphone on your device to be active.
Live SpeakAround Demo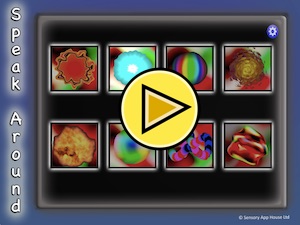 Above is a live demo of the SpeakAround app. 
SpeakAround (and all Sensory App House apps) do not contain advertising or collect any information from the users.
SpeakAround is available for school site licensing.
Get SpeakAround
Preview Video
Switch Access and Adaptive XBox Controller
SpeakAround can be controlled by touch, mouse and also XBox Controller & Microsoft Adaptive Controller.
Read more about the Bluetooth switch access and the Microsoft Adaptive Controller here.
Contact us at [email protected] if you have any technical or licensing queries.