Sensory Aqua is a relaxing alternative to our popular Plazma app. Aqua features a slow relaxing bubble experience based around aqua blues and greens. The bubbles appear to have a life of their own and flow around the screen slowly and randomly. The bubble edges are Aqua is fully touch reactive responding according to proximity of a bubbles.
By pressing the silver buttons it is possible to change colors, change the number of bubble groups, change the general speed of movement and change the "diffusion". You can also select more bubble droplets.
Aqua Live Web App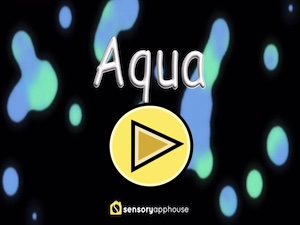 Sensory Aqua contains no adverts, requires no subscription and collects no user information. Perfect to beam to a large screen in a Sensory room or use as a relaxing, soothing night light.
Get Aqua
Preview Video
Switch Access and Adaptive XBox Controller