Sensory Build It is a simple cause and effect app particularly for early learner assistive switch or device users.
Build It has modes to support an early learner developing single and double access switch use. You can use a wide range of access switches and also the Microsoft Adaptive Controller/XBox controller, on most devices and computers. Build It also responds to screen tap, as well as external keyboard control (space, enter, 1, 2).
The app provides a large range of switch/tap activated early learning animated scenes with sounds including musical instruments, animals, underwater, space, toys, patterns and more.
Build It Live Web App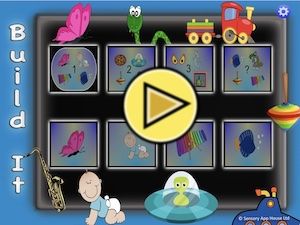 Tap or click above to launch the live web app
Sensory Build It contains no adverts, does not require a subscription and does not collect data.
Get Build It
Preview Video
Switch Access and Adaptive XBox Controller
The Build It activity screen can be controlled by an external keyboard and external access switches. Space Bar/ number 1 activate the blue (left button on screen) switch and Enter key / 2 activates the red (right button on screen). The app control buttons can be hidden with a keypress 5
Build It can also be controlled by using an XBox controller or the Microsoft Adaptive Controller with any suitable switch inputs. The XBox  D-Pad will move around the activities and the A and B buttons control the left and right on screen switches.
Build It has a switch settings button on the first screen, which defaults to single (blue) switch mode. It is possible to select two switches (red and blue) which alternative, or two switches with a random presentation.