CineFX is a fun photo effects app for all with 30 cinema style effects.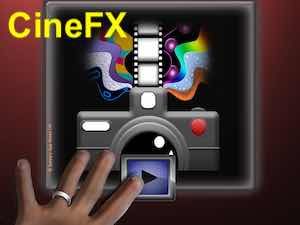 Tech Note: Please note that only Chrome and Edge Chromium browsers support camera input from CineFX at this point in time. We suggest you download the iOS version from the app store for iPad and use Chrome browser on your Mac.
How to Use
Click/tap to start the app (You will have to authorize access to your camera on a first run). The camera view will show on the screen, and effects will be layered over. Change the colors and styles of effects using the 4 buttons. If you have a keyboard, 1,2,3,4, Space Bar and Enter Key will control the colors and styles.
Install Sensory Web Apps on your Computer or Device.
Make sure your Windows PC, or Apple Mac has either the Google Chrome Browser or new Microsoft Edge Chromium Browser installed. Your Chromebook will already have the Chrome browser.

Click the app icon or this install link, which will open and launch the Sensory App in a new browser tab
Look for the "Install" button (+) that appears in the browser address bar. Press this install button and the installer pop-up will appear. You will find an app icon added to your desktop or programs list/folder. Clicking this app icon will launch the app full screen on your device.
Click here for installation videos and how to add the Sensory Web Apps to Android or iOS devices.
For technical information on controlling the apps by keyboard, switch or XBox/Adaptive controller please visit the relevant pages below. You can also download the Sensory Apps on all main app stores, and the download links are contained here also;