How to Use
Choose from the 8 Flocking scenes, and the background will load. Touch and move around, and the fish or other digital characters or objects will slowly flock together and follow. Touch the silver buttons to change the style of the character or object and add a trail, or change the background. If using on a tablet or phone, we suggest using the landscape orientation.
Install Sensory Apps on Chromebook, PC or Mac
Make sure your Windows PC, or Apple Mac has either the Google Chrome Browser or new Microsoft Edge Chromium Browser installed. Your Chromebook will already have the Chrome browser.

Click the app icon or this install link, which will open and launch the Sensory App in a new browser tab
Look for the "Install" button (+) that appears in the browser address bar. Press this install button and the installer pop-up will appear. See the examples screenshots below on Chrome and Edge.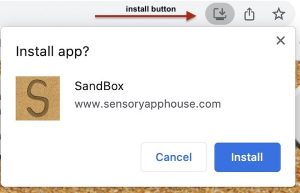 You will find an app icon added to your desktop or programs list/folder. Clicking this app icon will launch the app full screen on your device.
Click here for installation videos and how to add the Sensory Web Apps to Android or iOS devices.
Switch Access and Adaptive XBox Controller
Flocking can be controlled with a mouse, touch screen, or XBox controller and the Microsoft Adaptive controller.
Flocking main screen can be controlled by an external keyboard. Characters 1,2,3,4, Space, Enter change the creature settings. +/- change the background. The app control buttons can be hidden with a keypress 5, so this is useful for filling the whole screen for touch (but not hitting touch controls).
This app can also be controlled by using an XBox controller or the Microsoft Adaptive Controller with any suitable switch inputs. The XBox thumb controller/joystick  and D-Pad will move a virtual pointer around.
Read more about the Bluetooth switch access and the Microsoft Adaptive Controller here.
Contact us at [email protected] if you have any technical or licensing queries.
You can also download the Sensory Apps on all main app stores, and the download links are here;