About Magma
Magma is a simple calming and relaxing visual app for people of ALL ages. Magma generates lava style slow moving effects, which when combined with music from the phone or music player can be relaxing and also stimulating. Beaming Magma to a TV or projector fills the sensory space with the slow, lava effect. Magma for iOS is slightly different to Magma for Windows and Web app, as they were created at different points in time.
Live Demo
Click below to launch the free instant live demo of the Windows version of Magma. See the video below containing the Magma iOS version.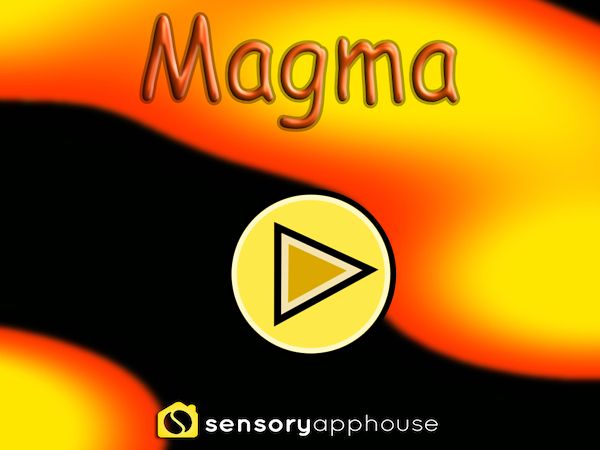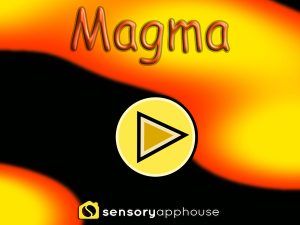 Instant App Demo – Click or Tap above
Magma has no adverts, no settings screen and no in-app purchases.
Get Magma
Touch the screen to change Magma iOS effects as follows:
Tap: change direction of flow.
Hold: change colour.
Pinch: change size of magma blobs.
Touch the silver button to change Magma Windows and Web App effects as follows:
Button 1; change lava effect style.
Button 2: change colour.
Button 3: Change blob size
Button 4: Change number of blobs
Bluetooth Switch Box  and XBox Controller Compatibility
Magma can be controlled by assistive technology switches that produce character codes (1, 2, 3, 4 & ~1, ~2, ~3, ~4) – all produce different changes. Keyboard 5 removes the silver buttons on the Magma Windows, Android and Web app versions. Magma (all versions including iOS) can also be controlled by using an XBox controller or the Microsoft Adaptive Controller with any suitable switch inputs. A,B,X and Y control the effects.
Magma iOS app Video
This is a 5 minute long preview of the Magma iOS app along with some specially created ambient music by Anna Stevens. The app does not include this music, but any music can be chosen on your device and played in the background, whilst displaying Magma.