Sensory SandBox. A box of sand to explore writing letters, words, numbers, symbols and creating unusual sandy drawings.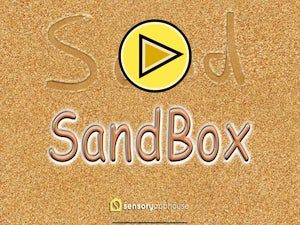 Install Sensory Apps on Chromebook, PC or Mac
Make sure your Windows PC, or Apple Mac has either the Google Chrome Browser or new Microsoft Edge Chromium Browser installed. Your Chromebook will already have the Chrome browser.

Click the app icon or this install link, which will open and launch the Sensory App in a new browser tab
Look for the "Install" button (+) that appears in the browser address bar. Press this install button and the installer pop-up will appear. See the examples screenshots below on Chrome and Edge.
You will find an app icon added to your desktop or programs list/folder. Clicking this app icon will launch the app full screen on your device.
Click here for installation videos and how to add the Sensory Web Apps to Android or iOS devices.
Get SandBox
How to Use Sandbox
Enjoy the many shades and colors. Writing and drawing by touch, with the finger or any stylus may be helpful and certainly can be a fun activity. You can create colorful creations with the 24 drawing colours and 18 sand effect backgrounds. There are 4 drawing widths, and your preferred color settings are saved.
SandBox is primarily a touch application, but will also work with any kind of mouse or pointing device supported by your computer or device.
There are 4 buttons controlling line color, sand color, line width and clear. Your preferred settings will be remembered.

Contact us at [email protected] if you have any technical or licensing queries.