Electrique is a multi touch or tap effects app, which generates the lively stimulating spark.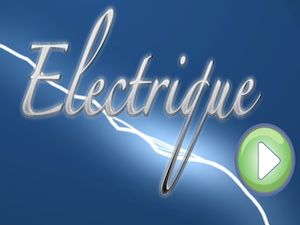 Click or tap the button and the app will launch filling the screen or window.

If the app fills the window, maximise the window to full screen and the app will run as full screen.
Press ESC key or click/tap the X button to close the app.
User Guide
Electrique is a multi-touch app, so to use just touch the screen or click the mouse to activate the floating spark. You can touch in two places to create a defined length spark and move it around. Change the spark and background color with button 1. Buttons 2,3, and 4 change the style of the spark.
Electrique can be keyboard or access switch controlled, with keyboard numbers 1,2,3,4 controlling the effects, 5 hiding the buttons, and a mouse click anchoring the spark. Electrique also supports the XBox controller or Microsoft Adaptive Controller on many devices. A crosshair will appear and the spark can be reset by hitting A. B, X and Y control other app effects.
How to Install & App Store Links
Sensory Apps Video Channel