A fun app for young learners. As the SimplyTouch Too name suggests, by tapping a touch screen, shapes will follow your movement around the screen. Change shapes, make the sparkling effects and bubbles follow the touch. 16 different visual effects give variety for a short fun experience.
It allows a young user to explore swiping and tapping in a fun way. Some effects disappear on touch, touch will create new characters and shapes, and swiping around will clear characters and effects from this area, a sort of eraser.
The projection capabilities of the computer or tablet gives the option for sensory rooms and relaxing environments to run the apps on large screens.
Live Simply Touch Too Demo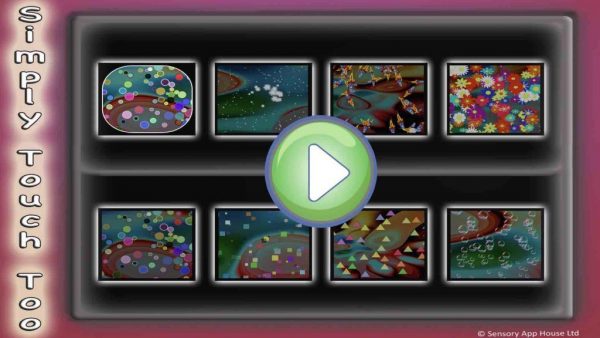 Above is a live demo of the Simply Touch Too app.
Simply Touch Too (and all Sensory App House apps) do not contain advertising.Simply Touch Too is available for school site licensing.
Get Simply Touch Too
Preview Video
Switch Access and Adaptive XBox Controller
SimplyTouchToo can be controlled with a mouse, touch screen , XBox controller (on PC or XBox) and the Microsoft Adaptive controller. With the Adaptive controller and XBox controller, the Dpad allows you to select the shapes. A, B , X & Y buttons change background effects and move to next touch effects. If you have an external joystick this can also control and lead the shape movement.
Read more about the Bluetooth switch access and the Microsoft Adaptive Controller here.
Contact us at [email protected] if you have any technical or licensing queries.