Sensory Speak Up Too is a visually stimulating simple game style app that responds to sounds. Speak Up Too can be used to encourage children to vocalise and make sounds, either through the internal microphone or via an external microphone. The app has also been used for other voice control therapy with older children and adults, using the gauge displays for visual feedback of relative audio levels of the voice.
Designed to assist with speech therapy, the louder the voice sound, the bigger the animal shape or pattern becomes. Lots of fun animal characters and balloons to move or grow by voice. The sound threshold for a visual response can be adjusted easily.
Live SpeakUp Too Web App
If you are on your PC, Mac or Chromebook please click below to launch the free instant live web app version. The app will request access to your microphone, and will run in Chrome, Edge Chromium of Firefox browsers.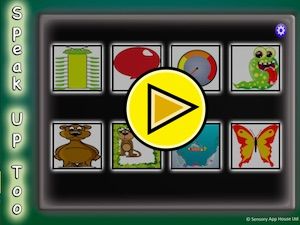 If you are on your phone or tablet, please view the video below or get the free iOS download is available for your iPad or iPhone.
Get SpeakUp Too
Sensory SpeakUp Too (and all Sensory App House apps) do not contain advertising. 
Please contact us at [email protected] if you would like to license the web apps for use on your network or in your application.
Instructions for using the Speak Up Too app
Ensure Speak Up Too has access to the device microphone (normally in privacy settings)
SpeakUp Too will ask for permission to access your microphone when you install the app. It will also confirm permission for access to the microphone each time you launch the app. This is a security feature of iOS.
Set the minimum and maximum microphone levels on the home page of the Speak Up Too app. Minimum sound threshold is the top slider, maximum sound threshold is the lower slider.
Choose the effect window and make a sound!
Technical Support
For any technical support issues, contact [email protected].