Switch Dodger is a switch accessible car game. With this friendly activity, you can loop your car around in space dodging the asteroids. This is a fun activity for early learners and others who may struggle with more complex games.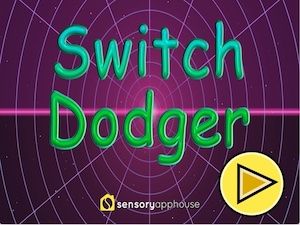 An alternative way to run and install the app, click this install link
How to Use
Switch Dodger has three lives per game, you can change the car spin speed. To start the car looping, tap the screen, press the keyboard or the XBox controller (any button). Tap the button again to reverse the direction of the car looping. Avoid the asteroids. You can change the speed of the car looping. The aim is to survive for as long as you can, or until you have had enough!
Install Sensory Apps on Chromebook, PC or Mac
Make sure your Windows PC, or Apple Mac has either the Google Chrome Browser or new Microsoft Edge Chromium Browser installed. Your Chromebook will already have the Chrome browser.

Click the app icon or this install link, which will open and launch the Sensory App in a new browser tab
Look for the "Install" button (+) that appears in the browser address bar. Press this install button and the installer pop-up will appear. See the examples screenshots below on Chrome and Edge.
You will find an app icon added to your desktop or programs list/folder. Clicking this app icon will launch the app full screen on your device.
Click here for installation videos and how to add the Sensory Web Apps to Android or iOS devices.
Switch Access and Adaptive XBox Controller
You can use a wide range of access switches and also the Microsoft Adaptive Controller/XBox controller, on most devices and computers. Switch Dodger also responds to screen tap, mouse pointer device as well as external keyboard control (space, enter, 1, 2). Tap or hit a button, the screen or switch to loop the car one way, tap again to reverse direction.
You can also download the Sensory Apps on all main app stores, and the download links are here;