About Touch Targets
Touch Targets is an early learning fun activity app. It may help develop hand-eye coordination and stimulation for young learners. Touch Targets contains different fun animated shapes and characters that appear in random places on screen. When the target is touched by a tap or a click, then character jumps somewhere else.
New characters appear automatically and there is plenty of applause. Sea creatures, space alien and rockets, butterflies and balloons, halloween characters as well as simple shapes and mesmeric blobs will keep the young ones exploring.
The projection capabilities of the computer or tablet gives the option for sensory rooms and relaxing environments to run the apps on large screens.
Live Touch Targets Demo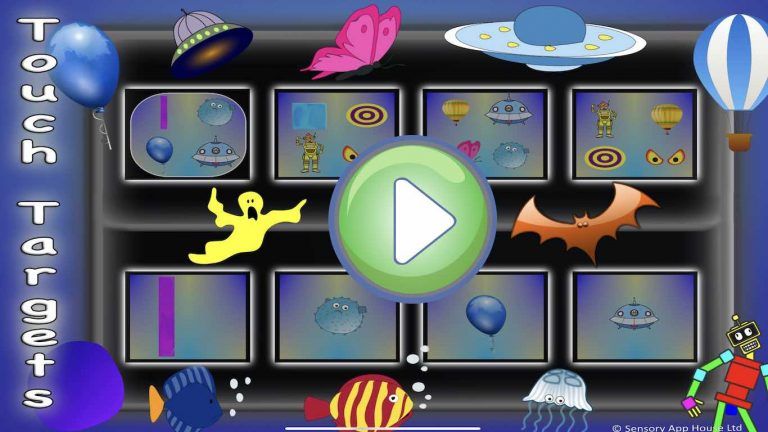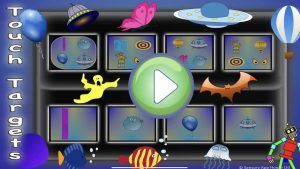 Above is a live demo of the Touch Targets app.
Touch Targets (and all Sensory App House apps) do not contain advertising.
Touch Targets is available for school site licensing.
Get Touch Targets
Preview Video
Switch Access and Adaptive XBox Controller
Touch Targets can be controlled by touch and mouse. It can also be controlled by using an XBox controller or the Microsoft Adaptive Controller with any suitable switch inputs. Keyboard control (1,2,3,4,5,space,+,-,Enter) also allows the character to move position, change size, change backgrounds and change characters.
The app control buttons can be hidden with a keypress 5, so this is useful for filling the whole screen for touch (but not hitting touch controls).
Read more about the Bluetooth switch access and the Microsoft Adaptive Controller here.
Contact us at [email protected] if you have any technical or licensing queries.