Switch Jump is a switch accessible fun activity to introduce using an Access Switch. This is a fun activity for early learners and others who may struggle with more complex games or activities.
Switches such as the Microsoft Adaptive Controller, bluetooth R.J. Cooper, AbleNet and others are all supported by Switch Jump (and most Sensory App House apps).
There are 8 jumping challenges, each with 14 varied courses of increasing difficulty. The challenge is to get the blue square through the obstacle course, and a switch press makes the square jump. If you crash, then it starts again and counts the. Number of attempts until you succeed.There are settings to change the speed of the activity and also the size of the jumping blue square.
Switch Jump is also potentially a useful tool for therapists and helpers to observe reaction times and progression through the activity.
Switch Jump Live Web App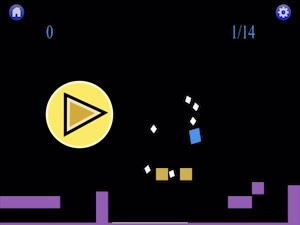 Click/tap above to run the live web app. Sensory Switch Jump contains no adverts, does not require a subscription and does not collect data.
Get Switch Jump
Preview Video
Switch Access and Adaptive XBox Controller
Switch Jump supports touch tap, keyboard input, bluetooth switch, Microsoft Adaptive Controller and XBox Controller.