1. Briefly Introduce Sensory App House
2.Review some new and popular switch accessible Sensory apps for leaners with complex needs
3. How Web Apps allow for the same Sensory app onto every device and computer – Web Apps
4. Discuss the impressive Microsoft Adaptive Controller – Universal Controller?
Any feedback or questions – lets chat or [email protected]
=========================================
About
Sensory App House creators, Professor Paul Blenkhorn and Dave Stevens, have a strong understanding of disabilities and complex learning needs so the apps they develop are aimed to assist children and young people in even the smallest of ways.
The Sensory App House range of apps are designed for stimulation, early learning coordination, relaxation, fun, art and speech therapy.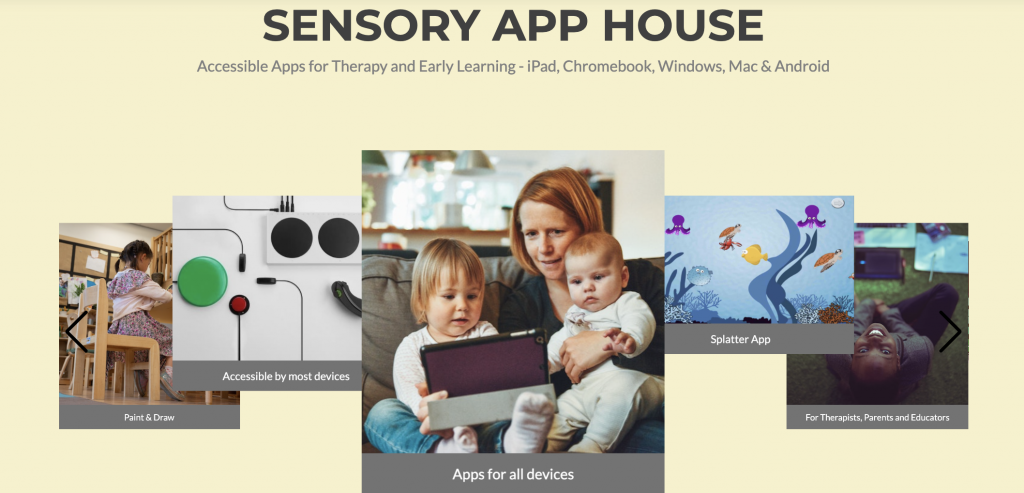 The apps can be used by therapists and educators to help younger people with visual and speech development and sensory issues. Most of them are free or available at a low cost.
First iPad app in 2013
Sensory App House created its first switch accessible app for iPad, called Electra on April 29th 2013.
Prior to Electra, Sensory has been creating software for Windows only, to support disabled children and adults. In fact, Professor Paul Blenkhorn, the Sensory Software founder wrote the original version of the Windows Narrator – the inbuilt Windows screenreader for blind users.
Since the first Electra app (which is still downloaded daily in impressive numbers), many more apps for iPad were rolled out – for sensory stimulation/cause and effect/speech therapy digital art and more, with over 4m downloads of the apps (most of which were free and many still are free).
Also, there no adverts, no end user data collection and no in-app purchases so far in any of the 77 Sensory apps we have created.
Let's have a quick look at a few of the apps now;
During the period from 2017 onwards, we realised that schools had built up a mixed fleet of computers and devices. Windows computers continued to be low cost favourites for schools and organisations, but many also then invested in iPads or Android tablets. Chromebooks appeared and become very popular in USA inline with the move to digital testing at schools. Finally, the higher priced Apple Macs had grown inline with the growth of iPhones.
This gave every assistive software developer a challenge – how to ensure the software was available on all devices/platforms and how to make it work in the same way.
Also, which assistive devices, switches, eye gaze etc will work with which computer/tablet became another problem.
"Universal Apps"
With the fast growth of web technologies, Paul headed a drive  starting 2018 to convert every existing iOS app to "Web Apps". In 2020 he also created a range of new fresh Web Apps for Sensory App House, extending the range to over 70 apps in total.
Web Apps allowed us to run the same app on any device that contained a popular browser, so Chrome, Windows (Edge) and Safari.
The Apps could be run "live" in the cloud or also easily installed on the device to run "offline" when needed.
We built an efficient method to also submit each Web App to the main app stores  – Apple App Store, Google Play (for Android and Chromebook) and Microsoft App Store. This allows anyone to access the apps via a trusted app store, as well as directly from a trusted, secure Sensory Live website. This approach might help with remote learning and therapy support at a distance.
"Universal Access"
The second challenge we had was how to create new software that would support all different switch and pointer devices. We ensured that the web apps work with all existing switching and mouse pointers by using keyboard character response (1,2,3,4,Space,Enter).
But we (maybe like you?) had noticed at Assistive Tech conferences an interesting device from Microsoft – the Adaptive Controller (for XBox).
However it wasn't only XBox for long – by 2019 the Microsoft Adaptive Controller was also supported on Windows 10, Chromebooks, Android and Mac. In 2020 it became supported on iOS 14.
So given the Adaptive Controller can interface with all main devices and computers, and also allowed for all existing access switches, joysticks etc. to plug in we were highly encouraged. Look at the Microsoft Adaptive Controller Video below.
"Treat every Sensory App as a game?"
Then Covid lockdown hit? We decided to convert every one of the relevant Sensory Apps to have XBox Game controller access, resulting in probably 50 apps that can be fully controlled with a Gamepad or the Microsoft Adaptive Controller.
Sensory App House App Selection
So let's look at a selection of the Sensory App House web apps. These are apps that might help therapists and teachers work with students who have complex needs and difficulties. The apps are designed to be simple to use, concentrate on a defined activity, have a visual impact, avoid on screen clutter, have a challenge and are fully switch accessible where relevant.
Many thanks for reading through, hope you had fun with the apps. Any questions please email us at [email protected] or via www.facebook.com/sensoryapphouse.